About Beaver Sports Medicine in Corvallis, Oregon
Beaver Sports Medicine is Mid-Willamette Valley's premiere orthopedic and sports medicine clinic. Our independent facility offers specialized preventative treatment, injury evaluations, surgery, rehabilitation and physical therapy. At Beaver Sports Medicine, we are committed to providing quality care for athletes and individuals while promoting a rapid and safe return to your active lifestyle.
What We Offer
Orthopedic Appointments
We set aside multiple appointments each day for local athletes. If you need to be seen by an Orthopedic Sports Medicine Physician, call 541-757-8100 and let us know. We will do our best to schedule you that day or within 48 hours of the injury. We have x-ray and MRI equipment onsite, so athletes don't necessarily have to go to the Urgent Care or wait to see their primary care physician.
Athletic Event Medical Coverage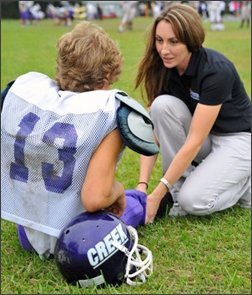 Athletic trainers are seen on the sidelines of athletic events of all varieties from ultimate frisbee, dance competitions to tackle football. During these events our role is to facilitate the health and safety of participating athletes. Our team of certified athletic trainers is available to provide this coverage to your event at an hourly rate. Contact our Athletic Training team at 541-757-8100 for rates and booking details.
Athletic Trainer Injury Evaluation and Management Sessions
A certified athletic trainer is available to evaluate your injury and help develop a plan of care for a rapid and safe return to your game. Sessions are thirty minutes long. This a good option for those who don't have a school athletic trainer, do not have insurance to see a doctor or physical therapist or who want sport specific training and rehabilitation programs. Sessions occur at Beaver Sports Medicine in Corvallis.
Bracing, Splints, Crutches, etc.
We have braces, splints, crutches, cold therapy units, walking boots, ankle braces, neoprene sleeves, hinged knee braces, patellar stabilizing braces, and casting material available here in the clinic. We can fit for custom ACL or OA braces here in the office and typically have them within a week or less. Many bracing products including splints and crutches are covered by insurance.
Injury Prevention and Performance Enhancement
Beaver Sports Medicine Athletic Trainers, Physical Therapists and Strength and Conditioning Coaches can create custom injury prevention plans for athletes of all abilities to help them stay in the game and perform to their best. Athletes looking to improve speed, power and strength can schedule one on one sessions with one of our exercise specialist to create a plan for maximizing performance and minimizing the risk of injury. Custom injury prevention and performance enhancement sessions are thirty minutes.
What Makes Us Different From Other Orthopedic Clinics?
Athletic Trainers are allied healthcare professionals that serve as Physician Extenders. They specialize in the provision of physical medicine and rehabilitation services including the prevention, assessment and treatment of acute and chronic injuries and illnesses.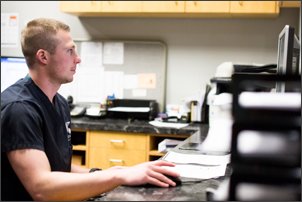 Typical orthopedic clinics utilize well educated nurses and medical assistants to assist with escorting patients, obtaining histories, scheduling surgery, coordinating rehabilitation services, and answering patient phone calls.
At Beaver Sports Medicine we utilize certified athletic trainers (ATC) that are highly skilled and efficient in performing musculoskeletal exams, surgical education and rehabilitation. ATCs understand the athletic mindset which is crucial for communicating with athletes, coaches, parents and agents.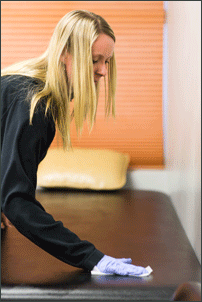 Certified athletic trainers (ATC) take on several different roles at Beaver Sports Medicine. Without your traditional athletic department, athletic training room, or physical therapy clinic duties, our ATCs daily responsibilities are a combination of Physician Extenders and secondary sports medicine coverage at local high schools, athletic clubs, and community colleges.
The combination of Physician Extender and clinical duties, mixed with secondary school sports medicine coverage is what makes our team unique. We work alongside the surgical staff at BSM Surgery Center to provide continuity of care to all our athletes and patients.
When you check in to your appointment at Beaver Sports Medicine, one of our ATCs will escort you to your room. Our ATCs will fit you with any necessary braces, splints, or crutches at your pre-op appointment. When you check in for surgery downstairs at BSM Surgery Center, one of our ATCs will greet you and make sure that you have any necessary post-operative crutches, braces, and cold therapy ready when you leave the surgery center. Before you check out, a certified athletic trainer will meet with you and your family to go over any home exercises that you can do and answer any questions you have.
Visit www.nata.org to find out more about certified athletic trainers.